Case Study - Cadbury Ireland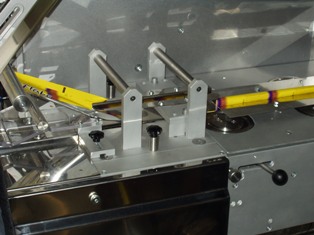 The wrapping of Cadbury Flake has traditionally been a flow-wrap style with twisted end seals; the introduction of a shorter flake product to the range instigated an enquiry to DACO outlining the need to flow wrap this product making use of existing equipment.
The existing line utilised a mechanical flow wrapper with a mechanical feed system, wrapping product at 100 packs per minute. Due to the higher speed application required and nature of the equipment it was decided to rebuild the equipment in servo execution. This also gave Cadbury's the facility of recipe storage to minimise downtime when changing products.
Following a detailed re-design, DACO proposed a solution that took bars from the process line broad side leading. The product was then buffered and automatically fed into the wrapping machine at around 320 packs per minute.
The project was concluded within the required timescale and exceeded our clients' expectations, resulting in extended business in other areas.
Cadbury's website: www.cadbury.co.uk